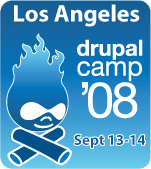 I just gave my first talk for the public today at DrupalCampLA! DrupalCampLA is a complimentary, open-to-the-public convention at the Los Angeles Convention Center covering the Drupal content management system, and I spoke about creating static corporate sites from the ground up. I had about 100 or more attendees, so it was a healthy crowd. A little nervous at first, but definitely an exhilaring experience when I got up on stage. I'll post the video as soon as it's processed. Meanwhile, come on by, and check out the free sessions!
Tomorrow, I'm giving my second talk, on design and implementation for social networking sites in Drupal. I'll cover modules that makes Drupal more friendly and conducive to social interaction (and maybe even a bit more Facebook-esque), and talk about design concepts behind some of today's hottest social networking sites. It'll be exciting! I'll post the slides here soon.
Some thoughts:
Wow, the presentation went by very fast. I had a lot more topics I could have gone over, but questions from the audience help fill up the time. :) I'm glad I sufficiently went over the bare basics though.
I should've printed out handouts and evaluation sheets. I didn't get too many evaluations. About half of the audience didn't have computers open so it would've not been conducive to ask them to email me feedback. Good thought for tomorrow.
These presentation screens are super-small, so I had to magnify the screen and bump up the font size a lot on my Mac.