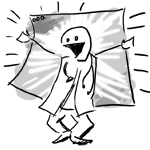 Finally, an update! (and a drawing for the first time in years.)
I didn't quite know what to do with this website for the longest time — and, in fact, I still don't. The most effective websites, I've found, offer a wealth of content for a specific niche, but for me, what exactly would my niche be? For awhile I toyed with starting my own freelancing business, but then I got employed by a wonderful 300-person Silicon Valley start-up and we got acquired by Microsoft. Then I thought of starting a "study hacks" weblog, even going so far as to register the domain name. And then, school happened. Compound this with the fact that Carolen says I'm likely in a "quarter life crisis": is there one single thing I'm interested in, that I can create a website around? A topic that can define me? I love so many different things that it's hard.
So, I'd like to start by picking a subtopic in my blog and seeing where this leads me. Transit in Orange County. I can't find another website dedicated to such an important topic in a county where cars are revered. With bus and train ridership shooting through the roof thanks to increased gas prices, plus all the cool transportation projects in the works, it's a topic ripe for discussion. I'll discuss news items, projects in the works, and tips for making transit work for you (if you happen to be in Orange County).
In the meantime, welcome to my website. I hope you enjoy the redesign.